A Very Merry Keto Christmas Dinner (40+ Recipes and Menu Ideas) is a compilation of the best low cab and keto recipes of your favorite Christmas classics.
Trying to figure out what to cook on Christmas? No problem! Mix and match for an easily planned holiday meal. Happy Holidays!
Enjoy Delicious Healthy Low Carb and Keto Christmas Recipes
The holidays are tricky for those of us on diets - including me. Let's be honest, its totally frustrating because we just want to eat "normal" stuff, right? I typically spend the holidays falling off the wagon and then feeling guilty.
I am going to approach this holiday season with a new attitude. First, I am giving myself permission to sample various "non-diet" versions of my favorite dishes. I am not going to eat a whole serving of it, just a taste.
Second, I am going to set myself up for success by making these holiday recipes for my keto Christmas dinner. They are great stand-ins for the original classics. In fact, many of these recipes are BETTER than the original.
How great would it be to head into the holidays without feeling guilty and be able to satisfy those cravings?? Let's do it together! Check out these fantastic recipes and let me know how you like them! Happy Holidays to you and your family. 🙂
How to Plan A Great Holiday Menu
Planning a great holiday menu is as simple as choosing 1 or 2 appetizers, your main course, 2 sides, and a dessert. We've provided all the recipe you need to plan a great menu. To make it even easier see our menu plans below.
The holiday recipes in this post are all fairly easy. When planning your menu make sure to balance challenging, or more time-consuming recipes, with easy, no-fail ones. The goal is to enjoy your holiday! -Kori
Keto Christmas Dinner Menu Ideas
Let me take some guesswork out of your menu planning! Here are four easy Christmas dinner menu ideas centered around the main dish. Enjoy!
Prime Rib Roast Dinner Menu
Ham Dinner Menu
Roast Goose Dinner Menu
Turkey Dinner Menu
Christmas Dinner Recipes
Here are some great recipes perfect for your Christmas table. It'll be a cinch to pull together the perfect holiday dinner.
---
Festive Keto Appetizers
Ham and Cheese Rollups
These ham and cheese roll ups were on every holiday menu when I was growing up. They bring back such good memories. These are easily customized, are super easy, and are fun to make! Recipe: Ham and Cheese Roll Ups (Low Carb and Keto Appetizer)
Frikadeller (Danish Meatballs)
Another easy appetizer here! These traditional Scandinavian meatballs are baked to make it easier and they can be made ahead of time.
For the holidays I recommend serving with a side of lingonberry preserves, cranberry sauce, or a warm brown gravy for dipping. Recipe: Frikadeller (Danish Meatballs) Low Carb Keto Gluten Free
Shrimp Dip
A 3 minute 3 ingredient dip. Seriously. I keep all the ingredients on hand so I can whip up this amazing dip when an unexpected need arises. Recipe: Shrimp Dip Recipe (Low Carb and Keto Appetizer).
Make sure to use sugar-free cocktail sauce: How To Make Cocktail Sauce (Seafood Sauce)
More Appetizers
---
Main Course and Holiday Roast Recipes
Prime Rib Recipe
The best prime rib roast recipe ever! So easy to cook and the salted olive oil and herb crust creates amazing flavor. This is the perfect roast beef for a dinner party or holiday gathering.
Since you pre-prep this roast a day or two in advance, all you have to do is roast the day of your dinner. Love! Recipe: How To Cook A Prime Rib Roast (Prime Rib Recipe)
Easy Brown Sugar Bourbon Glazed Ham
This sugar-free brown sugar bourbon-glazed ham is so delicious - and super easy! A perfect keto and low carb holiday recipe! Recipe: Brown Sugar Bourbon Glazed Ham (Sugar-Free Glazed Ham)
Juicy Turkey Recipe (Low Carb and Keto)
Yes, really. Shake and Bake Baby! This juicy turkey recipe is a super easy, fuss-free turkey that is tender and juicy with a delicious seasoned crispy coating. This turkey will be a huge hit with your family and guests! Recipe: Best Juicy Turkey Recipe (Keto Low Carb)
Slow Cooker Ham With Coke and Brown Sugar Glaze
Using sugar-free cola and your slow cooker, this is a super easy ham recipe resulting in a perfectly cooked moist ham that is glazed in a delicious butter brown sugar bourbon sauce. So good you won't believe it! Recipe: Slow Cooker Ham With Coke (Low Carb and Keto Ham Recipe)
Slow Cooker Turkey Breast - Easy and Tender!
Moist and juicy turkey breast, easily cooked in your slow cooker! This is a very simple and hands-off way to cook a turkey - the perfect thing for a busy holiday! Recipe: Tender Slow Cooker Tuscan Turkey Breast
Roast Goose Recipe
Roast goose is a traditional Christmas recipe that everyone looks forward to during the holidays. It's actually quite east to roast a tender, rich and juicy goose for the holidays! Recipe: How to Roast A Goose (Christmas Goose Recipe)
---
Holiday Side Dishes
Fresh Cranberry Sauce (Sugar-Free Cranberry Sauce)
This cranberry sauce has a citrus twist that you can't resist! You can feel good about serving this whole berry cranberry sauce at your next holiday dinner - no one will know it's sugar-free. I make it every year. Recipe: Fresh Cranberry Sauce Recipe (Sugar-Free Cranberry Sauce)
Kale and Brussel Sprout Salad with Pomegranate and Pecans
This salad can be tossed together easily by pre-prepping your ingredients ahead of time. A fresh salad is the perfect side dish to complement richer foods and meat. Recipe: Kale and Brussel Sprout Salad with Pomegranate and Pecans
Crockpot Green Beans with Ham
This is one of my go-to recipes for every holiday meal. It's super simple, hands-off and everybody loves it. The combination of the green beans and ham hock give these beans an AMAZING flavor. Recipe: Crockpot Green Beans and Ham (Low Carb Keto)
Baked Zucchini Casserole With Cheese
I LOVE this casserole and make it all year long. With carrots, zucchini, and a cheesy sour cream herb sauce - this zucchini casserole is so dang good! Assemble ahead and bake when you're ready. Recipe: Baked Zucchini Casserole With Cheese
Cauliflower Cheese Casserole
Cauliflower cheese casserole is creamy and cheesy and super delicious! This side dish pairs well with many dishes, but for the holiday you'll love it with turkey, ham, goose, and even roast beef. Recipe: Easy Cauliflower Cheese (Keto Cauliflower Cheese)
Green Bean Casserole With Cheese and Bacon
With green beans, onions, garlic, melted cheese, and bacon blended together in a creamy sauce and crispy topping - this will be your new favorite side dish. Recipe: Green Bean Casserole with Bacon And Cheese (Low Carb and Keto)
More Holiday Keto Side Dishes
---
Holiday Keto Desserts
Low Carb Keto Cranberry Trifle Recipe
This is actually a combination of two different recipes the almond butter cake below and the sugar-free cranberry sauce above. It's very easy to assemble and tastes amazing. I used individual-sized trifle dishes to make it special but you can you a large trifle dish. Recipe: Cranberry Trifle Recipe (Sugar Free Keto Trifle)
Chocolate Torte Recipe
This Chocolate Torte Recipe is simply the most delicious and decadent tasting dark chocolate cake. This is not a dry or crumbly textured cake. Think of it as part cake, part brownie, and part fudge. Topped with chocolate ganache and whipped cream it is so amazing. Recipe: Chocolate Torte Recipe (Keto Chocolate Cake)
Best Almond Cake Recipe (Low Carb and Sugar-FreeCake)
An utterly delicious cake that tastes just like a Danish pastry! Seriously. Think slightly denser buttery pound cake drizzled with an almond glaze. Yum. Recipe: Best Almond Cake Recipe (Low Carb and Sugar-Free Cake)
12+ Christmas Cookies. Twelve Days of Christmas Keto Cookies
A gorgeous tray full of tasty Christmas cookies makes a festive presentation and allows everyone to pick and choose their favorite. Everyone will love it! This roundup is a post of mine featuring 12 of my favorite blogger's cookies that are perfect for the holiday. (See post The 12 Days of Christmas Keto Cookies here)
Raspberry Coconut Bars
These are absolutely delicious and sugar-free. Since they're so pretty they make a perfect addition to your cookie platter! Recipe: Raspberry Coconut Squares (Keto Low Carb)
Crockpot Chocolate Peanut Clusters
These are addicting. Fair warning! 🙂 Super simple Christmas candy in your crockpot, these have peanuts, sugar-free baking chips (both chocolate and butterscotch, plus peanut butter. Oh my. Recipe: Crockpot Peanut Clusters (Sugar Free Gluten Free) + Video
Low Carb Christmas Pudding
I think you'll love this traditional Christmas pudding made low carb and keto-friendly. Thank you Sugar Free Londoner! 🙂 Recipe: Low Carb Christmas Pudding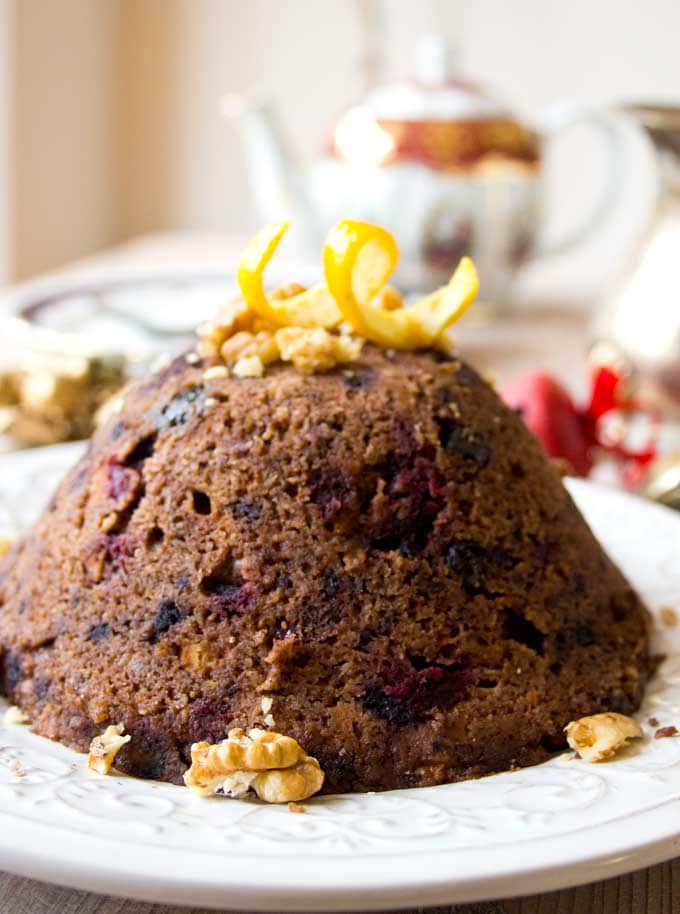 More Holiday Keto Dessert Recipes To Love
We'd Love To Hear From You
We'd LOVE for you to help us share this recipe! Here's how:
REVIEW OUR RECIPE
We love reviews! Please leave any questions and comments below and don't forget to review our dish!
SHARE YOUR PHOTOS
Show us what a star chef you are! Take photos of this dish and share them! We'd LOVE to see them!
Pinterest
Upload a photo of this dish to our Pinterest pin
Instagram
tag @seekinggoodeats and hashtag it #seekinggoodeats
PIN OUR PIN
Share our pin and pin on Pinterest!
Keto Christmas Dinner Recipes to help you stay on track and enjoy the holidays! These holiday recipes are so good you can serve to everyone - even those not on a ketogenic diet. From holiday roasts, prime rib, glazed ham, healthy side dishes, and tasty keto desserts you're sure to have a happy holiday! Tips for planning the perfect holiday dinner! Happy Christmas! #keto #lowcarb #Christmas #thanksgiving #holiday #ketodesserts #ketorecipes #seekinggoodeats #ketodinner #holidaysidedishes