Low Carb Easter Dinner Ideas (Keto Easter Dinner), is a roundup of delicious healthy recipes that are perfect for your next Easter dinner. These tasty recipes are all low carb, ketogenic friendly, and sugar-free. Even though these recipes are healthy everyone will love them - whether they're on a diet or not. Pick and choose items from appetizers, main dish, side dishes, and desserts to create your best Easter menu ever. Enjoy!
The Best Low Carb Easter Dinner Recipes
Here are the most amazing recipes that are perfect for an amazing Easter meal. You're gonna LOVE these low carb recipes! From classic ham, leg of lamb, and deviled eggs, to carrot cake and lemon tart topped with blackberries - you are sure to find your perfect combination of recipes below to make the best holiday dinner ever. Enjoy these low carb Easter dinner recipes!
Ingredients You May Need To Make These Low Carb Recipes
This post contains affiliate links. Please read my disclosures policy for more info
To help you out, here is a quick list of the common ingredients that you will need to make these low carb recipes. If you are already following a low carb or ketogenic diet you may have most of these ingredients in your pantry already.
I live in a somewhat rural area so some of the ingredients are hard to track down. Shopping online is a huge time and money saver! I've included the links if you find it easier to purchase from Amazon...
Ingredients:
Other Items:
Pick and Choose Recipes To Create Your Keto Easter Dinner Menu
Pick and choose your favorite recipes from below (keep scrolling) to easily create the perfect keto Easter dinner menu that everyone will love - even those not following a low carb or keto diet! Here's my formula:
Appetizers (1 or 2) + Main Dish (1) + Side Dishes (2) + Dessert (1 or 2) = The Best Easter Dinner
For my low carb Easter menu this year, I have chosen:
I'm super excited about these recipes because most can be made ahead. I want simple, easy, and nothing "fussy" - I don't like cooking in the kitchen when everyone else is having fun. 🙂
Easter Appetizers (Pick One or Two)
Shrimp Dip
So good!!! Literally the easiest dip to make, EVER. Three ingredients, less than three minutes to make. Recipe: Shrimp Dip Recipe
Ham Roll Ups
These are not only delicious, but they can really be customized to anyone's taste with whatever you feel like stuffing them with 🙂 I love that they can be made ahead of time, and besides my shrimp dip (above) these are always the first to go! Recipe: Ham and Cheese Roll Up
Zucchini Carpaccio
Here's my third quick and easy appetizer that is low carb and keto!
Recipe: Keto Zucchini Recipe – Zucchini Carpaccio
Easter Cheese Ball
Okay, how creative is this Easter cheese ball? It is perfect for Easter, is VERY easy to make, and tastes great! Recipe and video by Family Fresh Meals, (HERE)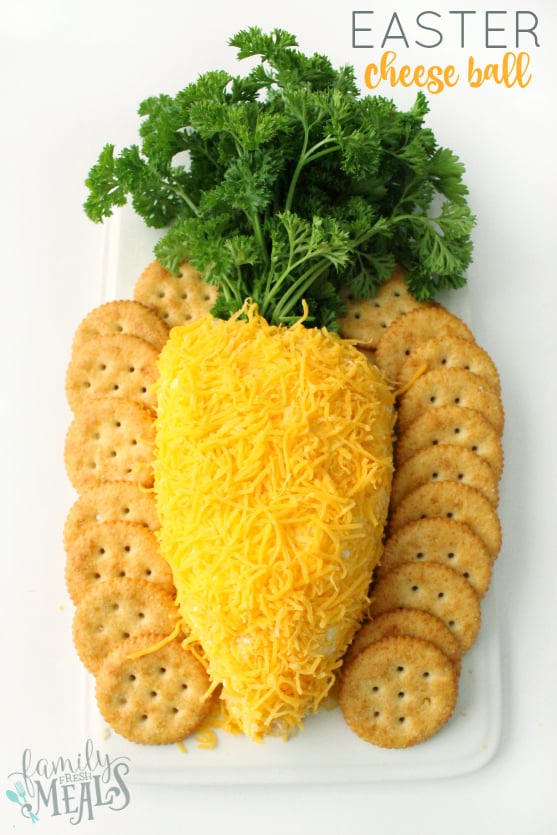 Keto Deviled Eggs With Avocado
My husband LOVES deviled eggs and avocado so when I came across this recipe for keto avocado deviled eggs - I knew he would love these! This delicious recipe by Keto Babble, (HERE)
Easter Main Dishes (Choose One)
Easy Slow Cooker Ham
This is an easy ham to make as it's cooked in a slow cooker with Cola. For those following a sugar-free, keto, low carb diet use a sugar-free soda such as Zevia. I love that this is hands-off and while it's cooking you can do other things! Recipe: Slow Cooker Ham With Coke (Low Carb and Keto Ham Recipe)
Cordon Blue Stuffed Pork Loin
Filled with ham, swiss, spinach, and herbs, is the most tender and delicious roast. Whether you make for a holiday party, a casual get-together, or a Sunday dinner - this roast is a showstopper and will impress your family and guests! With easy step-by-step instructions, only you will know it wasn't hard to make! You can even prepare a day ahead and simply roast the day of your dinner! Recipe: Cordon Bleu Stuffed Pork Loin
Brown Sugar Bourbon Glaze Ham
The perfect low carb and keto ham for any holiday. Only six ingredients, this brown sugar bourbon-glazed ham is a sugar-free recipe. This low carb baked ham is super easy to make and will be the star dish at your next holiday dinner! Recipe: Brown Sugar Bourbon Glazed Ham
Easy Leg of Lamb
Cooking a lamb roast is very simple and requires minimal ingredients. That's the beauty of most roasts! Tender juicy lamb roast with garlic and herbs is the perfect holiday roast. Recipe: Best Leg of Lamb! (How To Cook a Boneless Leg of Lamb)
Eggs Benedict Frittata
Okay I know this isn't a traditional Easter dinner item. Not everyone is up for a full Easter meal and maybe they just want a simple "Spring-like" main dish/brunch idea? This is really good and I love it more that eggs benedict for a several reasons. First, it is low carb/keto. Second, everyone can eat it and it's a one-dish recipe. Third, it has more flavor that traditional eggs benedict and it's easier to make. The sauce can be made ahead of time too!
Recipe: Easy Eggs Benedict Frittata With Hollandaise (Keto Eggs Benedict)
Easter Side Dishes (Choose Two)
Green Bean Casserole
Green bean casserole with bacon and cheese is so good! Anything with bacon and lots of melty cheese. 🙂 Recipe: Green Bean Casserole with Bacon And Cheese (Low Carb and Keto)
Layered Salad
Love this!!!!! It's another make-ahead dish (like the day before), and you can customize it to meet your carb needs. I usually just make the recipe as is because my family loves it that way, and I pick off the peas since they are higher in carbs. 🙂 Recipe: Layered Salad (Layered Overnight Salad)
Cauliflower Mac and Cheese
This is also a favorite in our house. Very cheesy and it's a great substitute for traditional macaroni and cheese casserole. Recipe: Easy Cauliflower Cheese (Keto Cauliflower Cheese)
Blue Cheese Wedge Salad
As you have probably guessed, I am all for easy recipes!! This one is fun because you really can set up a "wedge" bar and let people added whatever toppings and dressing they want - whether it be blue cheese, ranch, etc, Check out our sugar-free/keto thousand island dressing recipe
Recipe: Blue Cheese Wedge Salad Recipe (Keto Salad)
Low Carb Roasted Artichokes
Oh, how I love artichokes. I've loved them since I was a kid. On my fifth birthday, our neighbors planted five artichoke plants for me! Seriously. LOL! Anyway, I used to always steam my artichokes and dip them until I discovered roasting them. This recipe for garlic roasted artichokes is so delicious. Recipe by The Food Charlatan, (HERE)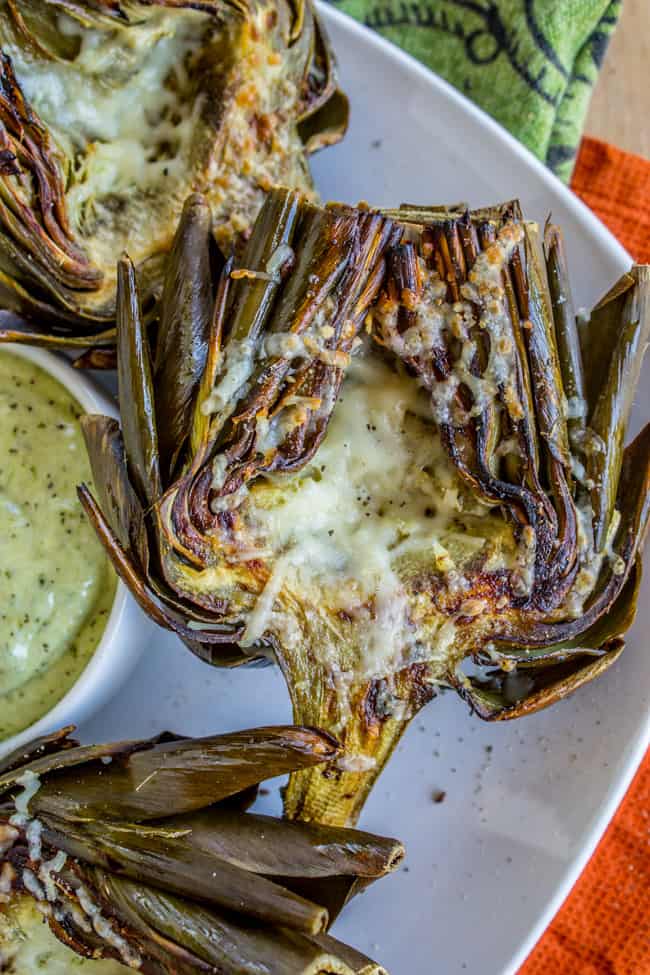 Keto Spinach Side Salad
You must make this Strawberry Spinach Salad! The combination of strawberries, walnuts, feta, basil, and a balsamic vinaigrette is so GOOD. Recipe by Gnom-Gnom, (HERE)
Easter Desserts (Choose One)
Mini Lemon Meringue Custards
Super cute individual servings of keto lemon meringue custards. These babies are sugar free and you literally cannot tell. I served to my family and they LOVED them. I will keep that a secret! LOL 🙂 Recipe: Lemon Meringue Custard Pies
Chocolate Torte
A rich and chocolatey cake, almost like a fudgy brownie. Yum. This is delicious.
Recipe: Chocolate Torte Recipe (Keto Chocolate Cake)
Almond Butter Cake
A moist and delicious cake that reminds me of a Danish Pastry. Recipe: Best Almond Cake Recipe (Low Carb and Sugar Free Cake)
Raspberry Layer Cake With Mascarpone Cream
Made with almond and coconut flour, mascarpone cream, and a raspberry reduction sauce this cake is amazing! Raspberry Layer Cake With Mascarpone Cream Recipe by Fit Mom Journey, (HERE)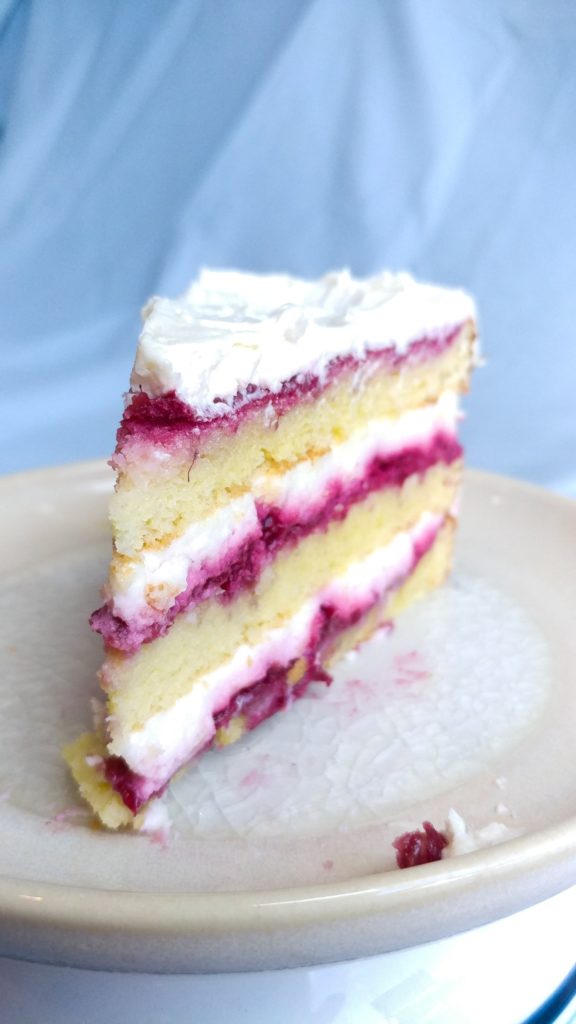 Keto Carrot Cake
A traditional carrot cake made healthier - low carb, sugar free, and keto friendly. Perfect! Recipe by Keto Diet App, (HERE)
Keto Lemon Tart
A low carb lemon blackberry tart that tastes (and looks) phenomenal! The crust is an almond pie crust, and the filling is lemon curd. Recipe by My PCOS Kitchen, (HERE)
More lucious low carb lemon recipes (sugar free and keto), (HERE)
Low Carb Chocolate Cheesecake
Ummm. There are no words for this low carb chocolate truffle cheesecake besides - PHENOMENAL!! This is on my list to make for our Easter dinner. I will let you know how it goes! I have made several of Low Carb Maven's recipes and they have all been good. Yes, they taste as good as her photo! Recipe Low Carb Maven, (HERE)
More decadent chocolate recipes (low carb, keto, sugar free), (HERE)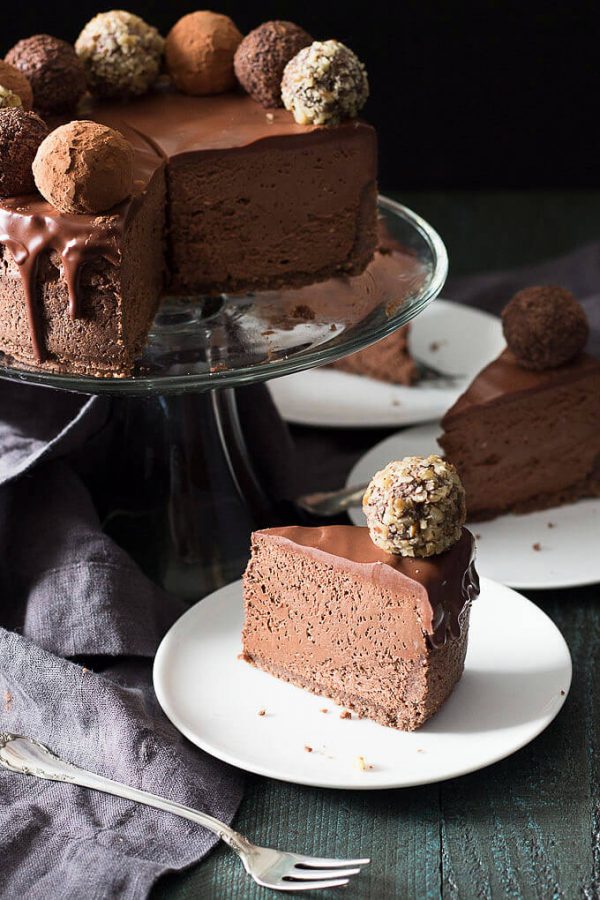 We'd Love To Hear From You!
We'd LOVE for you to help us share this recipe! Here's how:
1 | REVIEW OUR RECIPE
We love reviews! Please leave any questions and comments below and don't forget to review our dish!
2 | SHARE YOUR PHOTOS
Show us what a star chef you are! Take photos of this dish and share them! We'd LOVE to see them!
Pinterest
Upload a photo of this dish to our Pinterest pin
Instagram
tag @seekinggoodeats and hashtag it #seekinggoodeats
3 | PIN OUR PIN
Share our pin and pin on Pinterest!
Pin me for later!