---
---
Quick and Easy Keto Pizza Recipes are sure to cure your cravings. These recipes are yummy and simple ketogenic and low carb versions of your favorite pizzas.  Keto pizzas make a great lunch or dinner and will work to curb your cravings and help you stay on your healthy eating plan! Hot melted cheese, oh my!

How Do You Cure A Pizza Craving?
Make these quick and easy pizza recipes! You can never have too many low carb pizza options!
Pizza is often the reason I fall off the "diet wagon". My family loves to order take out pizza. It's really hard, virtually impossible, for me to just sit back and watch them eat it, while I don't partake. After many frustrating moments, I searched the web to find low, no-carb, or keto versions of pizzas that I think you'll LOVE.
Now, I get to make yummy homemade pizzas while my family eats their favorite takeout. I don't miss the original versions at all and it's really helped me stay on track.
These recipes are quick and easy and most only have few steps. How awesome is it that you can satisfy your cravings for pizza and still have them be low carb, ketogenic friendly, and be healthy? Exciting, right?
Pizza Chaffles
Pizza chaffles are super good and easy to make! The below image is pepperoni but you can use any pizza ingredient you want to top your delicious chaffle! Recipe:
Super Easy! Low Carb Pepperoni Pizza (Egg Pizza Recipe)
Low Carb Pepperoni Pizza (Egg Pizza Recipe), is a super simple and delicious recipe I know you'll love!  A tasty crust made of eggs and topped with pepperoni, pizza sauce, and delicious melted cheese – this healthy pizza egg recipe is low carb and keto-friendly! This is the perfect healthy recipe that works for any meal. Try this Seeking Good Eats low carb pizza recipe, (HERE)!
Keto Zucchini Pizza Boats
Zucchini as a base for a low carb pizza boat it is a very tasty idea! Zucchini when baked or grilled takes on an extra rich flavor that I love. Recipe from Gimme Delicious (HERE)
For more recipes using zucchini check out my post, Quick Stuff Zucchini Taco Boats (HERE) and  Low Carb Chicken Enchiladas (HERE)

Chicken Bacon Artichoke Pizza
I LOVE artichokes, so pairing them with chicken, bacon, and melted cheese? Yes! Love it. Recipe from Our Paleo Life (HERE)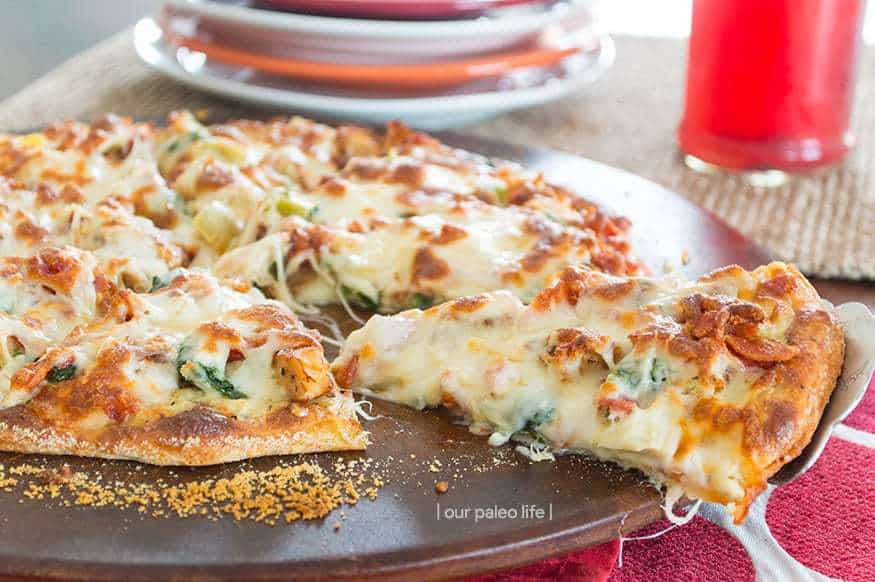 Low Carb Margherita Pizza With Portobella Mushroom Crust
Portobella mushrooms take on an amazing meaty flavor when cooked. Adding tomato, cheese, basil and turning into a pizza is a delicious idea! Recipe from 80 Twenty Nutrition (HERE)

Low Carb Cheeseburger Pizza
Delicious cheeseburger ingredients make a fantastic keto pizza – especially with all that melted cheddar cheese. Recipe from My Montana Life (HERE)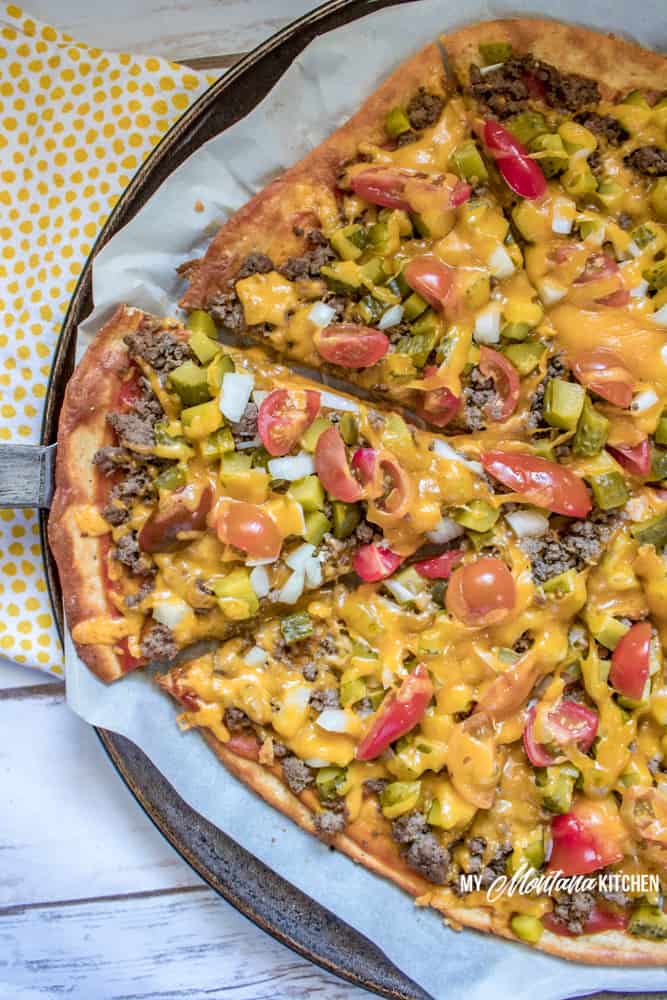 Keto Fathead BBQ Pork Pizza
Using a keto approved sugar free BBQ sauce, shredded pork, and loads of melted cheese makes a very tasty smokey rich pizza. Recipe from How To This And That (HERE)
Keto Low Carb Bacon, Chicken, Spinach, Alfredo Pizza
Here's another chicken and bacon pizza, but this time it is paired with spinach and alfredo sauce. Recipe from Stay Snatched (HERE)

Pull Apart Keto Pizza
This pull apart keto pizza would me a great low carb appetizer or snack! Recipe from Hip 2 Keto (HERE)
Low Carb Pepperoni Pizza Cups
These pizza cups make a great make ahead lunch, appetizer, or snack option. Made with pepperoni, sauce and melted cheese in a muffin cup these a easily portable. Recipe from A Spicy Perspective (HERE)

Keto Pepperoni Pizza
The classic pepperoni pizza made low carb and keto! Yum! Recipe and image from Kettle and Fire (HERE)
5 – Minute Keto Pizza Recipe
Here's a pizza for when you're in a hurry! This delicious recipe from Ruledme.com (HERE)
More Popular Recipes You'll Love!
How you are doing on your keto or low carb eating plan?
Tell us how your healthy eating plan going? How do you juggle your diet plan with your lifestyle and family needs?
Let us know how you like these recipes. Maybe you made the recipe but a different variation? Let us know about that too!
Get your recipe featured on our site! Feel free to send any of your favorite recipes and we'll select a few from our readers to add to our site – and we'll give you all the credit! Please only send recipes of your own creation!
Email us at admin@seekinggoodeats.com
Sign Up For Our Newsletter So You Don't Miss Any Recipes
We'd love for you to sign up for our newsletter so you can get all the tasty goodness straight into your inbox. xoxo
Need Supplies? We Love The Following: