Easy Keto Low Carb Slow Cooker Chicken Recipes, are a roundup of deliciously healthy quick and easy recipes that are perfect for weeknight meals.  These tasty quick crock pot chicken recipes are low carb, ketogenic, and low carb high fat diet approved.  Enjoy!
This post may contain affiliate links. This means if you make a purchase using my link, I make a small commission – at no cost to you. I only recommend products or services that I fully believe in and use myself! Affiliates include Amazon, Etsy, Siteground and others read the full disclosure here
Easy Keto Low Carb Slow Cooker Chicken Recipes
I love my slow cooker! If I could take a poll, my crock pot is at the top of all my kitchen appliances and gadgets – besides my coffee pot. Gotta have my coffee! I do have an instant pot which I also love, but honestly it requires more attention in cooking that my good 'ole slow cooker.
Anyone who knows me has seen that I own at least 5 crock pots of varying sizes. I am a full time working Mom and wife who is quite busy. Crocks are a dream for someone like me. I specifically look for recipes that I can prep a few days ahead of time then all I have left to do the evening before, or that morning, is toss it all in the crock, turn on Low, and go to work. I return and dinner is done. Phew!
Our family also travels a lot in our RV and a crock pot is an awesome appliance to have. When heading out on long road trips or sightseeing days, I will often start a meal in the crock and be cooking dinner while traveling down the road (no joke), or before we leave out the door for a long day of activities. No one feels like cooking after one of these two scenarios, right?
Side note for those of you wondering about cooking dinner while traveling down the road…I wedge my slow cooker tightly into the sink, secure the lid (mine has a locking lid), make sure the faucet is turned away from the sink, and plug her in! Oh, and I don't fill my crock pot more that half. Since liquid builds up you don't want it to spill out if you have to go around a corner. The crock requires very little power or observation so it works perfect!
Keto and Low Carb Slow Cooker Chicken Recipes
Here are 8 of my favorite easy keto slow cooker chicken recipes (that I have actually made) 🙂
Slow Cooker Chicken Salsa Queso Soup

Recipe and image courtesy of Beauty And The Foodie
Creamy Slow Cooker Keto Chicken With Bacon and Cheese
This is a fantastic keto slow cooker chicken recipe. It is rich and creamy, and of course I'm happy because it has bacon and cheese. Bacon and cheese make everything good, right?

Recipe and Image Courtesy of Kasey Trenum


Crock Pot Low Carb Bourbon Chicken
I tried this recipe and it is really good, however in my crock pot I only had to cook the chicken on low for 5 hours. Each slow cooker is different so adjust time accordingly. I have also substituted chicken thighs in this recipe before and it was super good.

Recipe and Image Courtesy of Two Sleevers 
Slow Cooker Keto and Low Carb Lemon Garlic Chicken

Recipe and Image Courtesy of No. 2 Pencil
Slow Cooker Balsamic Chicken

Recipe and Image Courtesy of Skinny Ms
Slow Cooker Garlic Chipotle Lime Chicken

Recipe and Image Courtesy of Beauty And The Foodie
Slow Cooker Creamy Tuscan Chicken
For this recipe make sure that if you use bottled alfredo sauce that it is sugar free. Otherwise, follow Simply Happy Foodie's instructions and use cream and garlic. So delicious!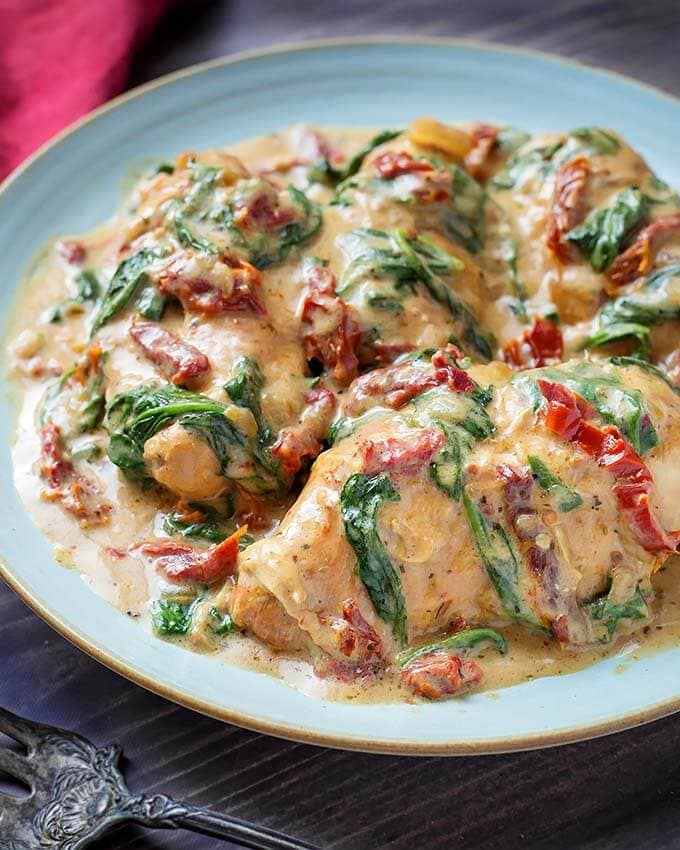 Recipe and Image Courtesy of Simply Happy Foodie 
 3 Ingredient Mexican Shredded Chicken
This recipe is adaptable for both your Instant Pot and your slow cooker. Love tasty options!

Recipe and Image Courtesy of Gimme Some Oven


I Would Love to Hear From You!
Tell me how your healthy eating plan going? How do you juggle your diet plan with your lifestyle and family needs?
Let me know how you like these recipes. Maybe you made the recipe but a different variation? Let me know about that too!
Get your recipe featured on this site! Feel free to send any of your favorite recipes and I'll select a few from our readers to add to our site – and I'll give you all the credit! Please only send recipes of your own creation!
Email us at admin@seekinggoodeats.com
Sign Up For Our Newsletter So You Don't Miss Any Recipes
I'd love for you to sign up for our newsletter so you can get all the tasty goodness straight into your inbox. xoxo
You Might Also Like These Recipes: